Posted on
1st July, 2021
Source: Brad Ziemer, Guest Contributor
The COVID-19 pandemic has forced the professional sports world to improvise, to make difficult decisions and find solutions to significant challenges like a closed border.
Scott Pritchard, the executive director of the Mackenzie Tour-PGA Tour Canada circuit, knows this better than most.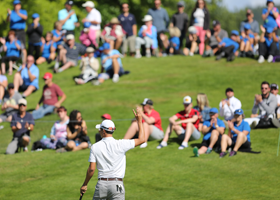 Pritchard had to do a lot more than chase sponsorship money while working to pull off what will be an eight-event season this summer. He also got to know many of the folks who make public health policy decisions across the country. He needed their approval to make the 2021 season a reality.
It is a credit to Pritchard that there will be a season. It will be a different kind of season, but different in some good ways. For starters, this year's Mackenzie Tour will be awash with Canadian content.
The 144-player fields will be filled with Canadians or Canadian-based players. That means each of the eight tournaments this summer should have plenty of local players in their respective fields. That hasn't always been the case during a 'regular' Mackenzie Tour season when tournaments are largely filled by young, up-and-coming American players.
"I think this is a huge opportunity for these players to play eight events at regular Mackenzie Tour venues that will test them the same way they would test them in a regular situation," Pritchard says. "I am excited for the players who have this unique opportunity to really take advantage of it and play well and make a name for themselves and help kickstart their career or in some cases reinvigorate their career."
The season has been turned upside down. The Mackenzie Tour normally starts in British Columbia and makes its way east. This season, it begins later this month in Eastern Canada and finishes with two B.C. events. The
GolfBC Championship at Gallagher's Canyon Golf & Country Club in Kelowna goes Sept. 22-25
, followed by the season-ending DC Bank Open presented by Times Colonist at Uplands Golf Club in Victoria, which runs Sept. 30-Oct. 3.
"There's a strong contingent of professional players and amateurs in British Columbia and so I think those two events in particular are going to be very well subscribed," Pritchard says. "There will be lots of interest to play in those events."
Purses will be $100,000 for six of the events and $50,000 for the Elk Ridge Open in Lake Waskesiu, Sask., and the second of two events in Prince Edward Island.
Pritchard acknowledges putting it all together was at times challenging.
"I would say the biggest challenge for us in the last 16 months has been the unknown," he says. "Not knowing when restrictions are are going to be lifted and having to navigate all the various jurisdictions across Canada. So dealing with Island Health, Interior Health and then the province.
"Rejigging the schedule is always a challenge because venues and our operators are used to certain dates. I was pleased that everyone was able to accommodate a date shift. The flexibility that everyone had was really amazing. I can tell you personally I am excited to play the final two events in September in British Columbia. I think it is going to be awesome."
There figures to be plenty on the line for those last two B.C. events as the top players on the money list will earn status on the 2022 Mackenzie Tour when things (hopefully) return to normal. The top player on the money list earns a full exemption for 2022, while the players finishing second through fifth earn conditional status and likely a minimum of four starts in 2022. Players sixth through 10th will each be guaranteed one start in 2022.
Players finishing in the top 50 of last season's four-event Canada Life Series will get priority in registering for this summer's Mackenzie Tour season. The rest of the field will be filled on a first-come first-served basis.
"We're also giving priority to the top 10 amateurs in Canada based on their World Amateur Golf Ranking," Pritchard says. "Our events will actually be offering WAGR points."
It's not perfect, but nothing is in our new COVID-19 world. Pritchard, his colleagues at the PGA Tour and tournament sponsors deserve credit for pulling it off in these uncertain times.
Brad Ziemer covered the B.C. golf scene for the Vancouver Sun for nearly 25 years. He is a past recipient of Golf Canada's Distinguished Service Award and the PGA of British Columbia's Patron of the Year award.