Posted on
28th September, 2021
Source: Brad Ziemer, Event Journalist
Golf writer Brad Ziemer is in Kelowna, and will be contributing articles all week during the GolfBC Championship at Gallagher's Canyon Golf Club, September 20-25.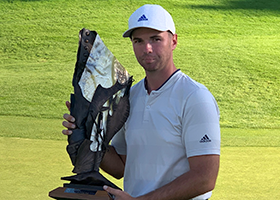 KELOWNA -- During the good times it is sometimes worthwhile to reflect on the bad times and
Callum Davison
did not have to dig too deep into his memory bank to find those.
Not that long ago, the 21-year-old from Duncan was feeling lost on the golf course. He was struggling mightily with his driver, not knowing what direction it was headed once he struck it with his unique cross-handed grip.
"I missed a lot of cuts in a row," Davison said of his time on the Forme Tour this summer. "That is never good for the head."
Davison gave up on the Forme Tour in late August after that string of missed cuts and decided to head north and join the Mackenzie Tour for its two Prince Edward Island events. He abandoned the longer driver he had been using in an attempt to find more distance off the tee and his game and confidence returned. He won the second event in PEI and on Saturday became the Mackenzie Tour's first multiple winner this season when he won the GolfBC Championship at Gallagher's Canyon Golf Club in Kelowna.
It has been quite the roller-coaster of a summer for Davison, who has spent the past three months criss-crossing the United States and then Canada with his mom Sherry and dad Robert in the family motor home.
"I have worked so hard," Davison said. "I worked harder than ever during the off-season and felt like I wasn't getting anything out of it. My Dad and Mom have been with me the whole time and I can't say enough about them. They kind of boosted me up."
Davison began Saturday's final round with a one-shot lead and ended up winning by two. He was caught briefly, but never surrendered the lead.
He shot a tidy three-under par 68 with just one bogey to finish the 72-hole event at 14-under par. The win was worth $18,000 to Davison, who now leads the Mackenzie Tour points list heading into the season-ending event in Victoria.
If he can hang on to that No. 1 spot, Davison will be fully exempt on next season's Mackenzie Tour. No matter what happens in Victoria, he will finish high enough to have at least guaranteed status for the first few events next year.
"That's big," Davison said. "I don't have to go to Q school which is nice. Obviously, the win in PEI kind of kick-started things. My game was there, off the tee was terrible, but it got better every week after I switched drivers and my game felt good going into this week."
Davison did not hit many drivers on the tight Gallagher's Canyon layout, relying instead on his trusty 3-iron.
"I stuck to my game plan, I hit 3-irons off almost every tee all week long," he said. "Thank God I was hitting them well, that was kind of the key to the tournament. I only hit three drivers each day."
Davison's only hiccup came on the long par 4 10th hole, where he hit what he called a terrible approach shot that resulted in a bogey. But he rebounded with two straight birdies on the 11th and 12 holes that seemed to make a statement to the rest of the field: You're not going to catch me.
"It was kind of a kick in the ass," Davison said of that bogey on 10. "I hit a great drive on 10, hit a terrible iron shot and didn't get it up and down and I knew I couldn't just go out there and kind of glide in. I had to put my foot down a little bit.
"I made a nice birdie on 11, hit a good iron shot to 10 feet and made it. On 12, the par 5, I hit a good wedge shot and it spun back a little too far, but hit one of my best putts of the day and it went in from about 20 feet."
Davison closed his round with six straight pars.
Yi Cao, a Delta resident who plays out of Beach Grove Golf Club in Tsawwassen, finished alone in second at 12-under par after shooting a final-round 68.
"The number I had in my mind was 15-under," Cao said. "I actually had a great chance. Tee to green I was awesome. I was hitting a lot of approach shots close to the hole and I just couldn't sink the putts. It's not the best feeling when you put yourself in a really good spot and you can't get the job done. It just gets you frustrated."
Brendan Leonard of Cambridge, Ont. finished third at 11-under, while Vancouver's Ilirian Zalli and Ty Campbell of Saskatoon tied for fourth at 10-under.
Other British Columbia residents who cracked the top 10 included Coquitlam's Will Barnett, who was sixth at eight-under, and Abbotsford's Zach Olson and Jordan Relling of Kamloops, who tied for seventh at seven-under.
The Mackenzie Tour's final event, the Reliance Properties DC Bank Open presented by Times Colonist, goes Sept. 27-Oct. 2 at Uplands Golf Club in Victoria.
Make sure to visit the GolfBC Championship website blog HERE to see all of Brad Ziemer's round recaps and notes from the 2021 GolfBC Championship.