Posted on
1st January, 2020
Source: Website
What a year! 2019 has come and gone and as we reflect we are proud to highlight some of our achievements, improvements, and changes throughout the past year…
Wailea Golf Club in Maui kicked off the year by celebrating the Gold and Emerald Courses' 25th anniversary, and what better way to celebrate than by free golf? Random rounds on the 25th of every month were given away all year long! Congratulations to Wailea on reaching this milestone.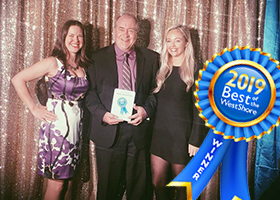 Many of our courses (and professionals) also celebrated some big accomplishments. For the fifth consecutive year,
Olympic View
was voted Best Golf Club at the
Best of the Westshore
awards.
Nicklaus North
received an honourable mention in the Top 10 Jack Nicklaus Designed Courses in the world, along with an 18th place ranking on
SCOREGolf's Top 59 Public Courses
in Canada (
Gallagher's Canyon
was also ranked, coming in at 45th). For the first time ever, the entire Hospitality division including the Beacon, Basalt Wine and Salumeria, and the Crystal Lodge in Whistler all received the
Certificate of Excellence from TripAdvisor
; with only 10% of all businesses having earned this from their guests, this was a great accomplishment for all locations.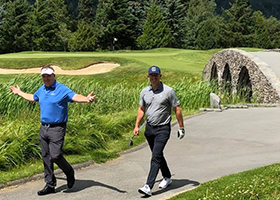 In the media, General Manager
Dan Matheson
(Okanagan Golf Club) was featured on
Global TV's 3-part news series
,
Gallagher's Canyon
was featured in
KelownaNow
for their event hosting expertise, and
Nicklaus North
hosted Golf Channel's Matt Ginella during his trip to Whistler for his Golf Advisor Round Trip TV Show. One of Nicklaus North's most "memorable moments" of 2019 includes Director of Golf,
Andrew Smart
's on-camera hole-in-one, acing the signature #12 hole and earning some extra camera time on the patio!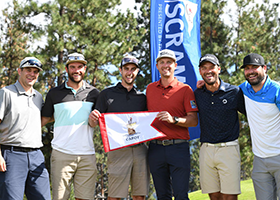 On-course success continued as
Kevin Maxwell
(Olympic View),
Conner Kozak
and
James Grassie
(the Okanagan Golf Club), and
Mike Nedoszytko
(Nicklaus North) all had noteworthy wins throughout the season. Congratulations to Kevin on his first-place finish at the Arbutus Ridge Invitational, to team Okanagan Golf Club (including James and Conner) on winning the
RBC PGA Scramble
BC East Regional Final to earn a spot in the national final at Cabot Links in Nova Scotia, and to Mike on winning the GolfBC Professionals exemption playoff to receive a spot in the 4th annual GolfBC Championship.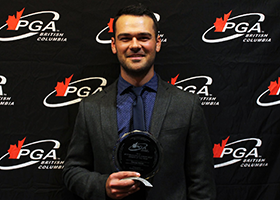 Conner Kozak
was also the proud winner of
2019's PGA of BC Junior Leader of the Year
award.
Thanks to some cooperative weather and on-course upgrades, our courses showcased some great playing conditions all season long. Our Grounds Maintenance teams were hard at work with a long list of projects. Gallagher's Canyon installed a new pump station and mainline to improve the water pressure and in turn provide a more consistent irrigation system. Nicklaus North completed the reconstruction of the 5th tee and had new cart paths paved on holes #1 and #14; Olympic View also paved some fresh new cart paths along with a bunker renovation and the re-leveling of #1 and #9 tee decks.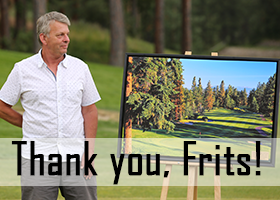 On the Grounds Maintenance side, we wished Gallagher's Canyon Superintendent of 35 years,
Frits Verkerk
, a very happy retirement. Congratulations to
Jesse Cowan
on his promotion to Superintendent.
Wailea Golf Club also welcomed a new face, adding
Director of Instruction Claude Brousseau
to the team. Claude joined us with an impressive resume as an award-winning professional and passionate golf coach with a 20+ year career, coaching both amateur and professional students in the U.S., Canada and Europe.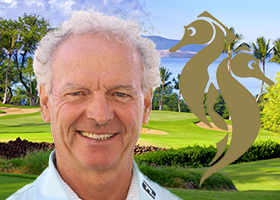 Claude is also a published author with more than 60 instructional articles for such notable publications as
Golf Magazine
,
Golf Magazine France
,
Golf Digest USA & Canada,
and
Inside Golf Canada,
and authored his book,
Realize Your Golfing Potential. Unlock the Secrets of a PROficient Short Game.
The fourth annual
GolfBC Championship
at Gallagher's Canyon took place June 10-16, the Mackenzie Tour - PGA TOUR Canada's only Okanagan event. After a successful 2019, we were pleased to announce a 2-year renewal as title sponsors for 2020-2021.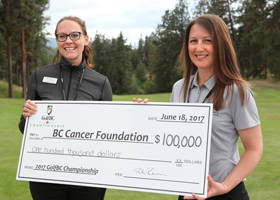 Once again, we are proud to say that with the help of the Kelowna community and our charitable arm - the Chan Family Foundation - were able to make another charitable contribution to two very worthy causes. As always, the event's main charitable beneficiary was the
BC Cancer Foundation
who received a $100,000 donation to help bring better patient care to the Okanagan Region. Specifically, this donation directly supports the Foundation's project towards improving PET/CT technology and accessibility in the Kelowna area. New this year, we opened nominations and voting of a second charitable beneficiary to the Kelowna community and after and overwhelming amount of charity/not for profit nominations and votes, the
Central Okanagan Food Bank
was the recipient of a $50,000 donation.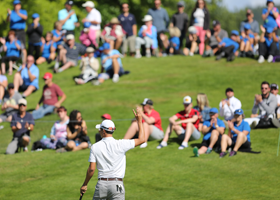 To date, the
GolfBC Championship's charitable contributions
include $500,000 to the BC Cancer Foundation, $50,000 to the Red Cross Kelowna Flood Relief, and the $50,000 Central Okanagan Food Bank donation. It is our honour to be able to help such worthy, local, and deserving causes in our community through this annual event.
Other charitable initiatives included hosting the fifth annual and record-breaking funds raised
Mamas for Mamas
gala at the Okanagan Golf Club, a $20,000 donation to the
Whistler Children's Center
from Nicklaus North's annual Sea to Sky Charity Golf Tournament, and several of our golf professionals continued support of the
PGA of BC Golfathon for ALS
.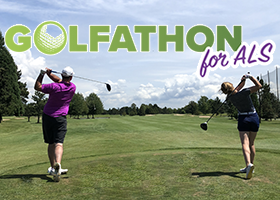 Ten of our PGA of Canada professionals lent their muscles to raise money for ALS research and support. Leading the way was Arbutus Ridge where professionals Jayme Young, Andy Hajer, and Arthur Brown golfed 100 holes each with a combined 44 birdies; next up was
Brian Coe
and
Nicole Jordan
from Mayfair Lakes/Head Office, who, with a 4:30am start, completed a total of 175 holes each; the following day, Gallagher's Canyon team of
Lee Alarie
and
Jason Jurimae
managed to get 63 holes in before the inclement weather (including a WILD hail storm) rolled in and lastly; the Okanagan Golf Club's
Lee Ranger
,
Austin Bosquet
, and
Conner Kozak
teed it up, dawn until dusk.
June 2019 also saw the closing
sale of Arbutus Ridge
Golf Course on Vancouver Island. We would like to thank the staff, management, members, residents and guests of Arbutus Ridge for being a part of our golf family for the past 27 years, and wish the new owners and the facility much success in the coming years.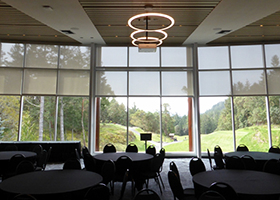 Clubhouse improvements continued as
Olympic View completed phase one of their renovation
. Kitchen renovations included an extensive upgrade to both its size and equipment, 30-foot extension brought a more functional layout for our Back of House kitchen team allowing them to better accommodate simultaneous restaurant a la carte service and banquet buffets. Along with the new kitchen, the refurbished Olympic Ballroom is now finished to match its spectacular view! New floor-to-ceiling windows bring the Olympic Mountains to the forefront and new carpet, a paint job, improved acoustic ceiling with additional sound proofing, new lighting, upgraded audio visual, and the addition of a banquet bar and patio give you a room special enough to make any event an ever lasting memory.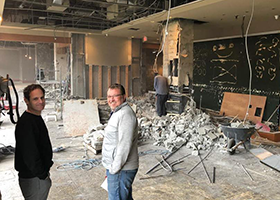 We broke ground December 2019 for both phase two of
Olympic View
renovations and a new restaurant at
Nicklaus North
, we are excited to bring you a
brand new Table Nineteen
by Spring 2020.
While there may have been less power tools involved, all our
GolfBC websites also underwent major construction
. Launching in February 2019, all courses had their individual dedicated websites featuring a mobile friendly, responsive design (same website that resizes and redistributes content based on your device and screen size), easy to find course navigation (with links through to GolfBC website for corporate info), and a footer area that allows for easy navigation to other GolfBC courses as well as to the corporate site.
All in all, 2019 saw many changes and brought much success to all our courses and their teams. Thank you for another great season and we are excited to see what 2020 has in store. Happy New Year and warm wishes for a long and successful 2020 golf season - we look forward to seeing you back out on the course (or, in the restaurants)!