Olympic View 1st Tee Update
Posted on
1st May, 2014
/ Source: May eNews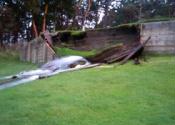 Issues and problems are a daily occurrence on a golf course but most are small detail items that generally have a "quick fix". Early this month, just over a week into my (new superintendent, Brett Finlayson) tenure, we had a major problem. An irrigation break ended up saturating the soil at the first tee, causing the wooden wall, which is roughly 23 years old and rotten, to collapse. This type of event is not something any employee, especially someone who has just begun, likes to tell their new boss! However, Randy (Olympic View general manager) was prompt to respond and we were able to come up with a plan of attack relatively quickly.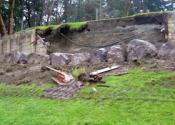 As to match a few of the other features on the golf course, a rock wall was decided to be the replacement for the wood. Construction begun the following Wednesday and it took just over 3 days to have the wall installed. We still have some remediation work to complete but are hoping to have it completed within the coming weeks. Not only are we happy with the look of the rock, but are extremely excited about the fact that rock doesn't tend to rot as the previous wood does.
As many of you know, we still have a few other wooden features throughout the golf course. Our long-term plan is to continue on with this look and eventually convert all the wood over to rock.